Hoi,
Maatje van me heeft een Golf 3 GTI staan wat een 2.0 TFSI DSG project had moeten worden. Door omstandigheden is hier helaas niet veel van terecht gekomen.
De auto mag weg dus vandaar hier even een berichtje of iemand interesse heeft of misschien iemand kent die interesse heeft om te gaan praten.
Bouwjaar: 11/1995
Kleur: ik vermoed Bright Surf Green als ik foto's vergelijk met wat ik online kon vinden (kon even niet bij de sticker voor de kleurcode)
Motor: was een 2.0 16v. Motor is al weg maar de 2.0 TFSI + DSG kan er compleet bij worden geleverd.
Interieur zijn de zwart/groene Recaro's.
Auto is redelijk gedemonteerd maar is zo goed als compleet. Zoals gezegd is de originele motor weg, de achter remklauwen ontbreken en van het subframe is dat torentje verwijderd (omdat nieuwe motor op de langsdragers zou komen).
De (bekende) slechte plekken onderin de A stijl en de dorpels zijn door een autoschade herstel bedrijf gerepareerd, afgekit en in de grondverf gespoten.
Voor remmerij voorzijde kan er een Bremo set van een Seat Leon Cupra R 20vt bij geleverd worden.
Tevens zwart gepoedercoate 18" velgen van een Seat Leon Cupra R.
Behalve de behandeling van de roest plekken en de demontage is er verder nog niks aangepast. Kan dus een mooie basis zijn voor een nieuw project, al dan niet met de 2.0 TFSI DSG die erbij geleverd kan worden.
Paar foto's van hoe de auto er nu bij staat: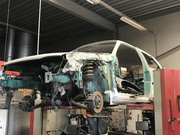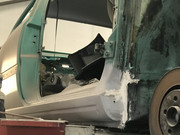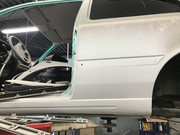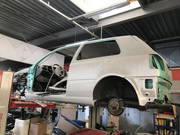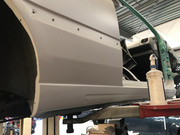 Mocht je zelf interesse hebben of iemand kennen voor wie dit iets zou kunnen zijn, stuur dan even een PB zodat ik je in contact kan brengen met de eigenaar. Ik ga er verder niet tussen zitten qua bedragen etc.
Richard