Vaak wordt gevraagd wat de motorcode is van een blok of waar deze te vinden is. Hier een eenvoudige uitleg voor twee veel voorkomende type viercylinder motorblokken in de watergekoelde VW's van ruw weg '74 tot '92.
Ten eerste hebben we de 'big' blocks, zeg maar 1.5 tot 2.0 liter 4 cyl in lijn.
Motorcode staat op voorzijde onderblok, aan de bovenrand tussen positie cylinder 3 en 4: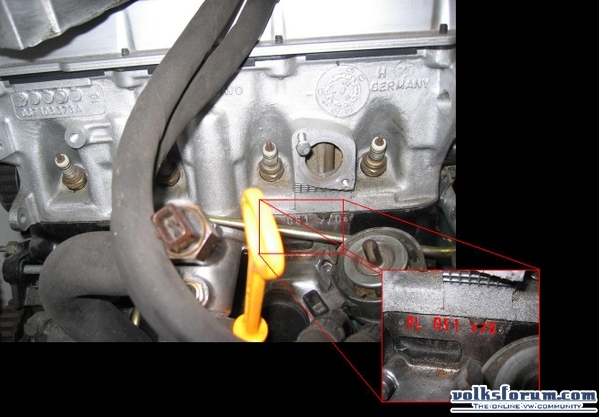 Klik voor grote versie. In dit geval is de motorcode 'PL' (1.8 16V - voor de oplettende kijker: ja er staat een 8v kop op

)
Ten tweede de 'small' blocks, zeg maar 0.9 tot 1.3 liter 4 cyl in lijn. Deze blokken zijn te herkennen aan het uitlaatspruistuk aan de voorzijde.
De motorcode staat op de bovenzijde van het onderblok (dus het pasvlak vaar de cylinderkop op komt), en dan vanuit de bestuurder gezien uiterst rechts vooraan:
Klik voor grote versie. Dit is dus een 'GG', 1.1 liter.
In alle gevallen geldt: de eerste twee of drie karakters vormen de motorcode. Dit kunnen letters of cijfers zijn, zoals PL, ABF, 1H, 9A.
Als er helemaal geen motorcode te zien is betekent dit meestal dat het blok ooit gereviseerd is, dit zie je vaker bij de 'small' blocks omdat bij het vlakken van het onderblok altijd de code verdwijnt.
Kijk voor een lijst motorcodes hier:
http://www.volksforum.com/forum/showthread.php?t=29405