Dag allen!
Momenteel ben ik bezig met de revisie van een 1300i NZ uit een golf 2 als winterprojectje. Het plan is om een goed lopend en vers blokje dat weer vele kilometers mee kan, met enige aanpassingen uiteraard nu toch alles uit elkaar is

Nee, het doel is niet om 150000 pk uit het blok te lepelen zoals sommigen toch verwachten wanneer ze een 'snelle' nokkenstok in het blok proppen zonder ook maar iets anders aan te passen

Plannen zijn een complete rebuild van het hele blok. De inlaatpoorten flowen, een schrick nokkenas (268 graden / symmetrisch / 10.1 mm lift inlaat - 9.8 mm lift uitlaat), chipbare NZ ECU (ja deze zijn er) gebruiken zodat de nokkenas ook zin gaat hebben en een fatsoenlijke RVS uitlaatlijn max. 55 mm doorsnee.
Nu ben ik op het punt van demontage van het onderblok, gisteren de zuigers verwijderd en een eerste korte inspectie van lagers etc gedaan. Wat mij opviel is dat aan de inlaatzijde van de zuiger flinke krassen zitten, identiek bij alle zuigers: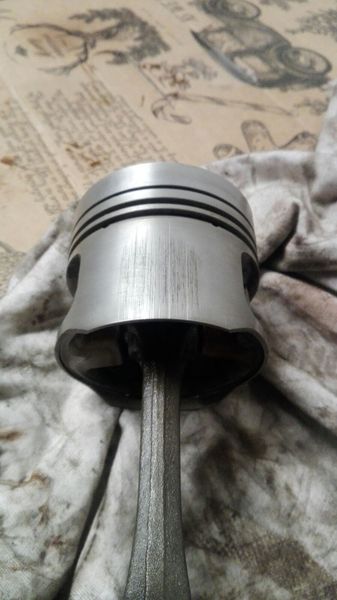 Wat aan de uitlaat zijde niet het geval is: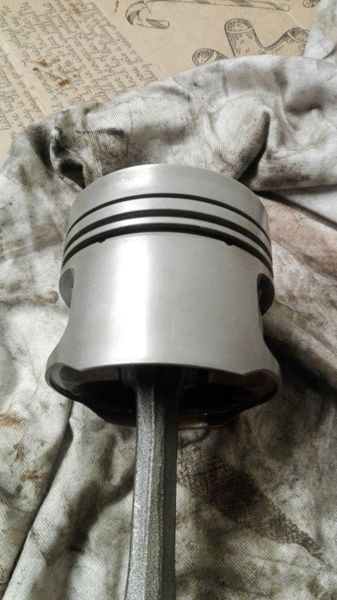 Nou lijkt mij dit een gevalletje van 'Piston Slap' waarbij met een koude motor, en dus nog niet geëxpandeerde interne componenten, de zuiger kantelt en met de cilinderwand begint te vrijen. Ook vrij logisch gezien de bougie hier direct boven zit en het vlamfront dus de zuiger deze kant uit zal willen duwen als secundaire zuigerbeweging.
De cilinderwand zelf heeft héle lichte sporen van het fenomeen, maar de hoonsporen zijn er nog doorheen te zien (geen foto momenteel). In principe is dat met een hoonbeurt opgelost
Nou zou ik dit dus graag willen voorkomen na het herbouwen van de motor, dus was mijn vraag uiteraard: Hoe is dit het beste te voorkomen?

Mijn eerste gedachte is het inkrimpen van de toleranties. Door het laten opboren naar de volgende overmaat zuigers (75.25 mm) en ervoor te zorgen dat de tolerantie hiertussen onder in de toelaatbare waarden ligt (ofwel zo klein mogelijk is) lijkt mij het een en ander te voorkomen.
Heeft iemand van jullie hier ervaringen of inzichten in die mij verder zouden kunnen brengen naar een juiste beslissing of oplossing?
Alvast bedankt!