Hallo allen,
Ik ben Emielvs en sinds een jaar afgestudeerd Werktuigbouwkundige. Eerder heb ik twee vespa's uit 1965 en 1972 opgeknapt. Nu de hoogste tijd voor een Volkswagen Golf MK1 uit 1982.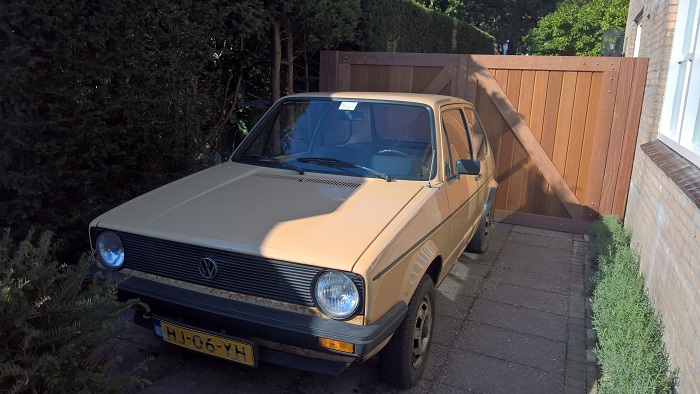 Sinds een aantal maanden ben ik de gelukkige eigenaar van een Golf MK1 1100 uit 1982. Ik heb 'm uit een oude stadsboerderij van mijn oudoom gered met nog geen 100.000 km op de teller en de volledige historie erbij. De auto is eerst als huurauto gebruikt, maar daarna alleen in onze familie gebleven. Een leuk detail: deze auto met de aanhanger is vroeger gebruikt door de schillenboer in Haarlem.
Mijn ambitie is hem 'gewoon' netjes en zoveel mogelijk origineel te houden. Wel een paar kleine upgrades toevoegen om hem wat 'moderner' te maken. Maar eerst APK keuren, verzekeren en... rijden uiteraard!
De allereerste stap was te kijken of hij überhaupt wilde starten. Zoals verwacht gebeurde dat niet. Dus daar begon het eerste avontuur. Gelijk de Haynes service and repair manual gekocht. Uiteindelijk de contactpunten vervangen en hij liep. Maar nog niet soepeltjes en lekker. Toen de carburateur opengehaald; de vlotterbak zat helemaal vol moet roestdeeltjes uit de tank. Gelijk maar de hele carburateur gereviseerd.
Hierna is de tank eronder vandaan gehaald en geïnspecteerd. Er lagen enkele roestdeeltjes vanuit de verroeste benzinevulhals in. De tank gelijk gereinigd, opnieuw gespoten en in de tectyl gezet. Vervolgens het hoofdprobleem: de benzine vul hals vervangen!!
Na wat afstellen en veel leerzame ervaring liep de Volkswagen helemaal soepel en netjes! 😊 Nu verder met het plaatwerk en de dynamo repareren.