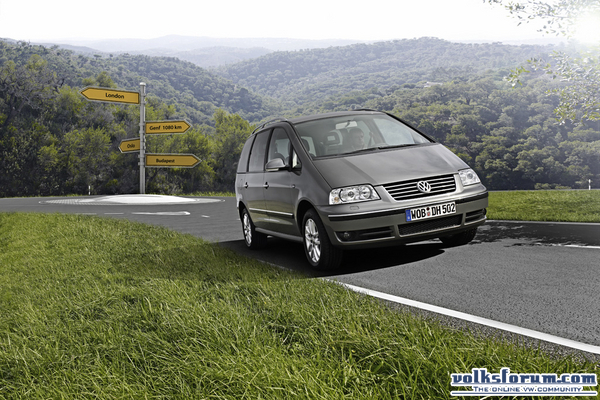 Geneva Motor Show 2008: Sharan BlueMotion - world premiere
Even a large van can be this fuel efficient:
New Sharan BlueMotion consumes just 6.0 liters diesel per 100 kilometers
Sharan BlueMotion debuts as one of the world's most fuel-efficient vans
2.0 TDI implemented for the first time in a BlueMotion model
Wolfsburg, 04 March 2008 Volkswagen is continuing its BlueMotion offensive. The latest model: the Sharan BlueMotion being shown as a world premiere in Geneva.
The average fuel consumption of this most fuel-efficient Sharan is just 6.0 liters diesel per 100 kilometers.
The van is powered by a 103 kW / 140 PS strong TDI with a diesel particulate filter (DPF).
The Sharan BlueMotion is already being introduced to the entire European market this summer. And indeed in the equipment lines Trendline and Comfortline.
The Sharan BlueMotion consumes 0.7 liter less fuel than the "conventional" model. Consequently, CO2 emissions are reduced from 177 g/km to 159 g/km.
These are first-class values for a seven-seat van with up to 2,610 liters cargo capacity and an allowable gross weight of 2,510 kilograms.
Despite its pioneering fuel-economy, the Sharan BlueMotion retains its original agility.
Thanks to its torque-strong 2.0 TDI (310 Newton-meter at 1,750 rpm) the family specialist accelerates to 100 km/h in just 11.9 seconds. Its top speed was even improved from 192 km/h to 195 km/h.
Some of the ways in which fuel consumption was reduced include internal engine modifications and longer gear ratios. A pleasant side effect: When the tank is filled with 70 liters of fuel, the Sharan BlueMotion now travels more than 1,100 kilometers.
Engine and transmission of the Sharan BlueMotion
The most fuel-efficient Sharan of all times called upon - and is the only BlueMotion model to do so to date - the 2.0 TDI with its known efficient and power.
To satisfy the ambitious fuel economy targets of the BlueMotion models, even on the Sharan that weighs 1.6 metric tonnes, the diesel specialists modified important parameters of emissions tuning by means of a software modification.
These include the boost pressure, injection time point and exhaust gas recirculation rate.
Just as consumption reducing is the longer gear ratio of the six-speed transmission. The fourth gear was given a 7.2 percent longer gear ratio. Also lengthened were gears five (+8.1 percent) and six (+7.7 percent).
cW value reduced by 6.3 percent
Like the BlueMotion versions of the Polo, Golf, Golf Plus, Jetta, Passat and Touran previously, the Sharan was also optimized aerodynamically. By means of refinements to the chassis, engineers were able to reduce the air drag coefficient by 6.3 percent, from cW 0.31 to cW 0.29.
Reduced air resistance is also improved by a standard lower chassis; it was lowered by 25 millimeters. The Sharan is delivered with size 195/60 R16 tires; tire air pressure was increased by 0.3 bar with the goal of achieving the lowest possible rolling resistance.